Exercising While Traveling
I hate exercise.
Unless it's something fun and motivating like hiking, rock climbing, virtual reality, or getting chased by a pack of wolves or zombies, I'd much rather sit on my ass watching Netflix. Go to the gym? Forget it. Jog, down the street? You'll have to kill me first and drag my corpse.
That being said, I do like being in shape and being "healthy," I just don't like the effort involved (which is exponential the older I get. Ugh). So how does one, who hates exercise and leaving the house, crawl up that motivational mountain of glass shards especially while on the road?
Well here are some of my life-hacks that hopefully might help you too:
Just because someone is thin doesn't mean they're "in shape."
Honestly, I fall on and off the Lollipop Ship all the time, but I always get back on!
'Cuz guilt-sharks.
Hear me out. It's called the "If-Then" trick. Instead of trying to force new habits you already resist, just modify old ones. IF I'm watching a show or movie THEN I'll do some push ups, sit ups, butt lifts, etc. And it totally works!
Before the Witcher has killed his third monster, I've tricked myself into doing an hour of exercise!
My favorite VR work-out games


I hope that helped. If not, then grab a bottle of wine, throw on your favorite show, and just be the magnificent beast that you are!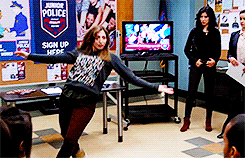 My 'How To Exercise While Traveling' video
#Jugglingjourneys #Exercise #VRworkout #Workingoutathome #Yogaathome #Virtualreality